Ashleigh and Burwood fragrances lamps are not only beautiful and elegant, the fragrance effortlessly transforms every room. 
The catalytic combustion technique allows the fragrance lamp to actively purify,cleanse and perfume the air in your home.
The lamps are hand made in the UK which gives you reassurance of their superior quality. They are an exceptionally efficient and powerful choice for flameless home fragrance. 
By using a fragrance lamp for just 30 minutes will transforms the ambience if an average sized room, purifying the air and emitting a fragrance that will last for hours.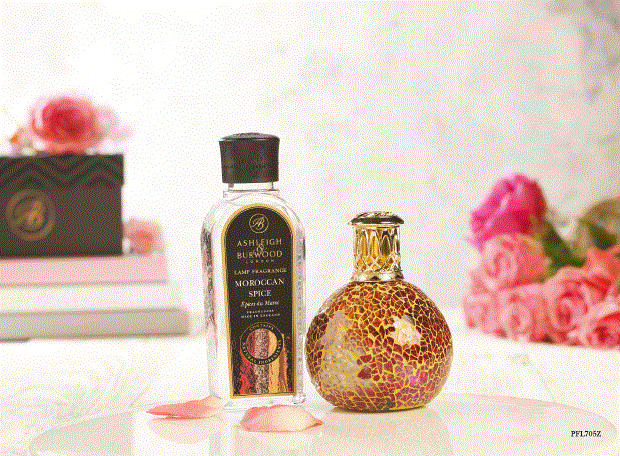 Candles 2 go customers love the Oriental Spice fragrance: With Warm, Seductive oriental intrigue, delights in the spice scent of star anise, kissed by the warming notes of nutmeg and cinnamon, hints of clove and ginger beautifully balance the scent.
 Ashleigh and Burwood Fragrance Lamps not only fragrance, but also cleanse the air in your home, removing un-welcomed odours. Independent laboratory test proved that the Lamps cleanse the air of up to 99% of:
• Bacteria 
• Dust mites 
• Odour particles
The lamp works by using catalytic combustion to keep the stone hot without a flame. This unique process actively kills bacteria and microorganisms and eliminates bad odours whilst at the same time delivering long lasting fragrance into the air. 
Let the fragrance inspire you……every room in the home can be gently cleansed and fragranced, promoting wellbeing and creating your desired atmosphere.Treat yourself or surprise someone you love today with an Ashleigh and Burwood Lamp today…Lamps and fragrances can be bought separately or come if Boxed Gift sets.  For further details on how to use the Fragrance Lamp please see the video below.