The Fine Fragrance Company is an Australian Fragrance House that seeks and creates new blends of the worlds finest fragrances. In the same way we select our perfect perfumes, we choose fragrances for our homes that reflect our personality and style. Fine Fragrance Company products are designed in Australia.
Candles2go  recommends the London Range with 6 amazing fragrances to choose from. This array of fragrances have been carefully blended to offer an elegant and evocative representation of London, that is thought to be the style and culture of the world. Presented in an elegant and stylish black gift box, the London Collection is available in 6 x fragrances.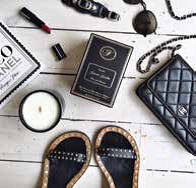 LEMON VERBENA TEA Blended sparingly with white tea from the Himalayan Hills. Truly refreshing blend to be enjoyed any time of the day. 
SANDALWOOD as the top note. Discover the allure of the fragrant sweet perfume of sandalwood blended with white musk. 
MIMOSA & CARDAMOM Soft sweet floral with a hint of patchouli oil and exotic spice.The ambience of everyday life on Portobello Road.
ROSE & JASMINE A seductive blend of sweet jasmine with a hint of English rose warmed in the summer sun. 
BERGAMOT & WOOD Sweet orange blossom combined with woody cedar and oak undertones. A welcoming fragrance to come home to. 
ORANGE BLOSSOM & BERGAMOT The sparkling citrus aroma of rich ripe juicy oranges freshly picked and combined with a hint of bergamot.